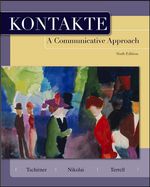 downloadable eBook price:
$

82

.

92

USD
you save:
$

42

.

71

USD
( 34% )
add to cart
This title is being sold in the downloadable VitalBook™ format.
Intended for the introductory communication concepts course, this text focuses on the principles and contexts of communication studies. The award-winning authors link theory and research with fundamental concepts and create plentiful opportunities for students to apply their understanding and develop useful communication skills. Their exposition is seasoned with intriguing case studies and stimulating examples drawn from contemporary life. In addition, Tubbs and Moss show a true sensitivity to diversity--a reflection of their professional interests in gender and cultural issues. Students that choose the VitalBook version of this title have access to powerful digital learning tools. Students can share notes with others, customize the appearance and layout of the content, and organize all their digital course materials from a single program. VitalSource is a downloadable eBook. Students can install their eBook on up to two machines. Students can also print sections of the book for maximum portability.
This title will only allow printing of 2 consecutive pages and copying of 2 consecutive pages at a time.
License Rules
Online License Type: Expires 365 days after registration
Downloadable License Type: Perpetual License
Table of Contents
Front Matter
EINFÜHRUNG A
EINFÜHRUNG B
KAPITEL 1: Wer ich bin und was ich tue
KAPITEL 2: Besitz und Vergnügen
KAPITEL 3: Talente, Pläne, Pflichten
KAPITEL 4: Ereignisse und Erinnerungen
KAPITEL 5: Geld und Arbeit
KAPITEL 6: Wohnen
KAPITEL 7: Unterwegs
KAPITEL 8: Essen und Einkaufen
KAPITEL 9: Kindheit und Jugend
KAPITEL 10: Auf Reisen
KAPITEL 11: Gesundheit und Krankheit
KAPITEL 12: Die moderne Gesellschaft
Back Matter