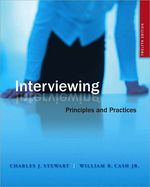 downloadable eBook price:
$

49

.

09

USD
you save:
$

25

.

29

USD
( 34% )
add to cart
This title is being sold in the downloadable VitalBook™ format.
The most widely-used text for the interviewing course, Interviewing: Principles and Practices offers comprehensive coverage of a wide range of interviews, as well as the most thorough treatment of the basics of interviewing (including the complex interpersonal communication process, types and uses of questions, and the structuring of interviews from opening to closing). Relevant theory is carefully integrated as a foundation for the practical aspects of interviewing--for both the interviewer and the interviewee. The 12th edition continues to reflect the growing sophistication with which interviewing is being approached, the ever-expanding body of research on all types of interview settings, recent interpersonal communication theory, and the effect of equal opportunity laws on interviewing practices. Students that choose the VitalBook version of this title have access to powerful digital learning tools. Students can share notes with others, customize the appearance and layout of the content, and organize all their digital course materials from a single program. VitalSource is a downloadable eBook. Students can install their eBook on up to two machines. Students can also print sections of the book for maximum portability.
This title will only allow printing of 2 consecutive pages and copying of 2 consecutive pages at a time.
License Rules
Online License Type: Expires 365 days after registration
Downloadable License Type: Perpetual License
Table of Contents
Front Matter
CHAPTER 1: An Introduction to Interviewing
CHAPTER 2: An Interpersonal Communication Process
CHAPTER 3: Questions and Their Uses
CHAPTER 4: Structuring the Interview
CHAPTER 5: The Probing Interview
CHAPTER 6: The Survey Interview
CHAPTER 7: The Recruiting Interview
CHAPTER 8: The Employment Interview
CHAPTER 9: The Performance Interview
CHAPTER 10: The Persuasive Interview: The Persuader
CHAPTER 11: The Persuasive Interview: The Persuadee
CHAPTER 12: The Counseling Interview
CHAPTER 13: The Health Care Interview
Back Matter
GLOSSARY
AUTHOR INDEX
SUBJECT INDEX