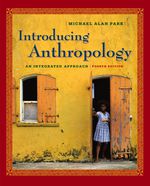 downloadable eBook price:
$

58

.

17

USD
you save:
$

29

.

96

USD
( 34% )
add to cart
This title is being sold in the downloadable VitalBook™ format.
Michael Alan Park's well-paced explanations and inviting tone make Introducing Anthropology a pleasure to read. As the breadth and complexity of the field of anthropology has increased, most texts for introductory-level, general anthropology courses have become longer, but this concise book offers a tightly managed amount of detail in an accessible, student-friendly format. The unique holistic approach focuses on the integration of the biocultural nature, evolution, and behavior of the human species. Students that choose the VitalBook version of this title have access to powerful digital learning tools. Students can share notes with others, customize the appearance and layout of the content, and organize all their digital course materials from a single program. VitalSource is a downloadable eBook. Students can install their eBook on up to two machines. Students can also print sections of the book for maximum portability.
This title will only allow printing of 2 consecutive pages and copying of 2 consecutive pages at a time.
License Rules
Online License Type: Expires 365 days after registration
Downloadable License Type: Perpetual License
Table of Contents
Front Matter
1: DOING ANTHROPOLOGY: Defining the Discipline
2: HOW ANTHROPOLOGY WORKS: Methods of Inquiry
3: THEMES OF ANTHROPOLOGY: Evolution
4: THEMES OF ANTHROPOLOGY: Culture
5: OUR PLACE IN NATURE: Humans as Primates
6: EVOLUTION: The Large-Brained Primate
7: REPRODUCTION: The Sexual Primate
8: HUMAN VARIATION: Biological Diversity and Race
9: FOOD: Getting It, Growing It, Eating It, and Passing It Around
10: NATURE OF THE GROUP: Arranging Our Families and Organizing Our People
11: COMMUNICATION: Sharing What We Need to Know
12: MAINTENANCE OF ORDER: Making the Worldview Real
13: CULTURE CHANGE: Theories and Processes
14: THE EVOLUTION OF OUR BEHAVIOR: Putting It All Together
15: ANTHROPOLOGY IN TODAY'S WORLD: Problems and Contributions
Back Matter
Glossary
Bibliography
Photo Credits
Index