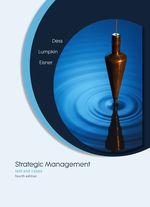 downloadable eBook price:
$

107

.

25

USD
you save:
$

55

.

25

USD
( 34% )
add to cart
This title is being sold in the downloadable VitalBook™ format.
Strategic Management: Text and Cases, 4th Edition, by the prestigious authors Dess/Lumpkin/Eisner provide solid treatment of traditional topics in strategic management as well as thorough coverage of contemporary topics such as digital & internet strategies, innovation & corporate entrepreneurship, knowledge management, and intellectual assets. The text is rounded off by rich, relevant, and teachable cases. This text's accessible writing style and wealth of new and updated illustrations, which clarify the most difficult topics, make this text the best resource for your students. The new case selections emphasize variety, currency, and familiar company names. The cases are up-to-date in terms of both financial data and strategic issues. This group of cases gives both instructors and students unparalleled quality and variety. Based on consistent reviewer feedback, these selections combine comprehensive and shorter length cases about well known companies. Students that choose the VitalBook version of this title have access to powerful digital learning tools. Students can share notes with others, customize the appearance and layout of the content, and organize all their digital course materials from a single program. VitalSource is a downloadable eBook. Students can install their eBook on up to two machines. Students can also print sections of the book for maximum portability.
This title will only allow printing of 2 consecutive pages and copying of 2 consecutive pages at a time.
License Rules
Online License Type: Expires 365 days after registration
Downloadable License Type: Perpetual License
Table of Contents
Dedication
About the Authors
Preface
guided tour
support materials
Cases
chapter 1 Strategic Management: Creating Competitive Advantages
chapter 2 Analyzing the External Environment of the Firm
chapter 3 Assessing the Internal Environment of the Firm
chapter 4 Recognizing a Firm's Intellectual Assets: Moving beyond a Firm's Tangible Resources
chapter 5 Business-Level Strategy: Creating and Sustaining Competitive Advantages
chapter 6 Corporate-Level Strategy: Creating Value through Diversification
chapter 7 International Strategy: Creating Value in Global Markets
chapter 8 Entrepreneurial Strategy and Competitive Dynamics
chapter 9 Strategic Control and Corporate Governance
chapter 10 Creating Effective Organizational Designs
chapter 11 Strategic Leadership: Creating a Learning Organization and an Ethical Organization
chapter 12 Managing Innovation and Fostering Corporate Entrepreneurship
chapter 13 Analyzing Strategic Management Cases
Case 1 Robin Hood*
Case 2 Edward Marshall Boehm, Inc.*
Case 3 The Skeleton in the Corporate Closet*
Case 4 The Best-Laid Incentive Plans*
Case 5 Growing for Broke*
Case 6 Crown Cork & Seal in 1989*
Case 7 Sun Life Financial: Entering China*
Case 8 Automation Consulting Services
Case 9 The Kmart–Sears Merger *
Case 10 Enron: On the Side of the Angels *
Case 11 American Red Cross*
Case 12 Whole Foods Market 2007: Will There Be Enough Organic Food to Satisfy the Growing Demand?*
Case 13 QVC *
Case 14 Will the Real Ann Taylor Please Dress Up?*
Case 15 United Way of America*
Case 16 JetBlue Airlines: Is the Blue Fading?*
Case 17 Panera Bread Co. in 2007*
Case 18 Southwest Airlines: From Simple to Complex "LUV"?*
Case 19 Johnson & Johnson*
Case 20 Yahoo!*
Case 21 Heineken*
Case 22 Rocky Mountain Chocolate Factory, Inc. *
Case 23 World Wrestling Entertainment *
Case 24 Procter & Gamble*
Case 25 The Casino Industry*
Case 26 Samsung Electronics*
Case 27 Claire's Stores: Competing Betwixt and Between*
Case 28 Caribou Coffee, Inc.*
Case 29 eBay: Expanding into Asia*
Case 30 Apple Inc.: Taking a Bite Out of the Competition *
Case 31 Wal-Mart: The Challenges of Dominance*
Case 32 FreshDirect: Delivering The Goods?*
Case 33 Nintendo's Wii*
Case 34 Reader's Digest: Inform, Entertain, and Inspire—Inspire Whom and for How Much Longer?*
Case 35 UPS and Fedex in the Express Delivery Services Industry*
Case 36 Schoolhouse Lane Estates *
Case 37 General Motors*
Case 38 Ford Motor Company on the Edge?*
Case 39 Dippin' Dots Ice Cream*
Case 40 McDonald's*
photo credits
company index
name index
subject index