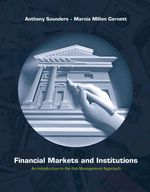 downloadable eBook price:
$

105

.

40

USD
you save:
$

54

.

29

USD
( 34% )
add to cart
This title is being sold in the downloadable VitalBook™ format.
Financial Markets and Institutions, 3e offers a unique analysis of the risks faced by investors and savers interacting through financial institutions and financial markets, as well as strategies that can be adopted for controlling and managing risks. The third edition further strengthens the book's risk management approach with expanded discussions of ethics, new technology integration, and much more! Students that choose the VitalBook version of this title have access to powerful digital learning tools. Students can share notes with others, customize the appearance and layout of the content, and organize all their digital course materials from a single program. VitalSource is a downloadable eBook. Students can install their eBook on up to two machines. Students can also print sections of the book for maximum portability.
This title will only allow printing of 2 consecutive pages and copying of 2 consecutive pages at a time.
License Rules
Online License Type: Expires 365 days after registration
Downloadable License Type: Perpetual License
Table of Contents
Front Matter
1 Introduction
2 Determinants of Interest Rates
3 Interest Rates and Security Valuation
4 The Federal Reserve System, Monetary Policy, and Interest Rates
5 Money Markets
6 Bond Markets
7 Mortgage Markets
8 Foreign Exchange Markets
9 Stock Markets
10 Derivative Securities Markets
11 Commercial Banks: Industry Overview
12 Commercial Banks' Financial Statements and Analysis
13 Regulation of Commercial Banks
14 Other Lending Institutions: Savings Institutions, Credit Unions, and Finance Companies
15 Insurance Companies
16 Securities Firms and Investment Banks
17 Mutual Funds
18 Pension Funds
19 Types of Risks Incurred by Financial Institutions
20 Managing Credit Risk on the Balance Sheet
21 Managing Liquidity Risk on the Balance Sheet
22 Managing Interest Rate Risk and Insolvency Risk on the Balance Sheet
23 Managing Risk with Derivative Securities
24 Managing Risk with Loan Sales and Securitization
REFERENCES
INDEX