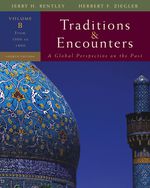 downloadable eBook price:
$

44

.

75

USD
you save:
$

36

.

81

USD
( 45% )
add to cart
This title is being sold in the downloadable VitalBook™ format.
Over a million students at thousands of schools have learned about world history with the best selling book for the course, Traditions and Encounters: A Global Perspective on the Past. Using the twin themes of traditions and encounters, the text emphasizes both the distinctive patterns of historical development within individual societies and the profound results of interactions between different societies. Exploring the historical record of cross-cultural interactions and exchanges, Traditions and Encounters places the world of contemporary globalization in historical context. The book helps students understand the world's major societies and shows how the interactions of these societies affect history throughout the world. The authors tell a coherent and digestible story of the past that is not weighed down by excessive detail, so instructors are able to incorporate additional readings. This edition provides an updated map program as well as the latest scholarship. It also moves Primary Source Investigator online, improving access for students to work with primary sources. Students that choose the VitalBook version of this title have access to powerful digital learning tools. Students can share notes with others, customize the appearance and layout of the content, and organize all their digital course materials from a single program. VitalSource is a downloadable eBook. Students can install their eBook on up to two machines. Students can also print sections of the book for maximum portability.
This title will only allow printing of 2 consecutive pages and copying of 2 consecutive pages at a time.
License Rules
Online License Type: Expires 365 days after registration
Downloadable License Type: Perpetual License
Table of Contents
Front Matter
13 The Commonwealth of Byzantium
14 The Expansive Realm of Islam
15 The Resurgence of Empire in East Asia
16 India and the Indian Ocean Basin
17 The Foundations of Christian Society in Western Europe
18 Nomadic Empires and Eurasian Integration
19 States and Societies of Sub-Saharan Africa
20 Western Europe during the High Middle Ages
21 Worlds Apart: The Americas and Oceania
22 Reaching Out: Cross-Cultural Interactions
23 Transoceanic Encounters and Global Connections
24 The Transformation of Europe
25 New Worlds: The Americas and Oceania
26 Africa and the Atlantic World
27 Tradition and Change in East Asia
28 The Islamic Empires
Glossary and Pronunciation Key
Credits
Index